ISO 9001:2008
The hospital is accredited with ISO 9001:2008 Certificate wide BSCIC Certificate Number BN 6122/5887:1212 dated 17 December 2012 and reaccredited on 17 December 2015 after reassessment on 03 December 2015.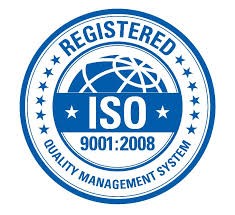 Our Laboratory & our Quality System undergoes an assessment by an external accrediting body (NABL) in order to have their policies and procedures approved and accredited. Our own Quality Assurance Department routinely monitors procedures and processes by way of compliance audits, quality system audits and method audits to ensure compliance with accreditation and client requirements.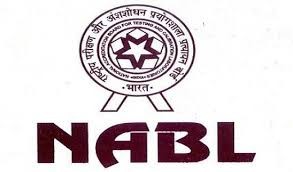 NABH (National Accreditation Board for Hospitals & Healthcare Providers) is a constituent board of Quality Council of India, got Accreditation in the month of August 2019. Renewal is under process for this year*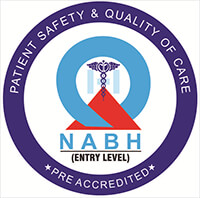 The JNMC (Jawaharlal Nehru Medical College) completing 30 years of its excellence in medical education. Committed to be the best, it caters to every aspect of medical education and that's why we are awarded with "Grade A+" by NAAC for one of the best medical colleges in India.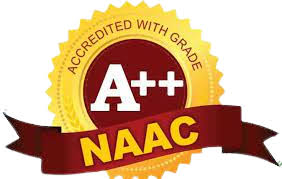 The National Institutional Ranking Framework is a methodology adopted by the Ministry of Education, Government of India, to rank institutions of higher education in India.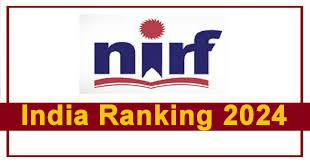 Acharya Vinoba Bhave Rural Hospital has over 30 years of experience in the healthcare sector; we offer excellence in health care facilities, focusing on the comfort and satisfaction of our patients. Our infrastructure and facilities match national and international standards and quality make us one of the leading and biggest hospitals in India. And prestigious our Jawaharlal Nehru Medical College, Wardha ranked 97th in all over India.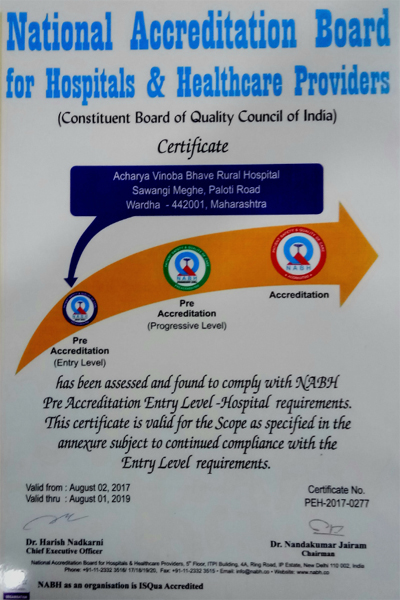 Broad Specialty
The following are the Broad Speciality at Acharya Vinoba Bhave Rural Hospital.
 Anesthesia & Pain Management
 Clinical Nutrition & Diabetics
 Dermatology
 Surgery
 ENT
 Internal Medicine
 Laboratory Medicine
 Obstetrics and Gynecology
 Ophthalmology
 Psychiatry
 Physiotherapy & Rehabilitation
 Pulmonary Medicine
 Radio-Diagnosis & Imaging
 Pediatrics
 Oral Surgery
 Respiratory Medicine
 Orthopedics
Read more
Book Appointment
Super Specialty
The following are the Super Specialty at Acharya Vinoba Bhave Rural Hospital.
 Critical Care
 Cardiology
 Cardiac Surgeries
 Interventional Radiology
 Neurosurgery
 Gastroenterology
 Nephrology
 General Surgery
 Surgical Oncology
 Medical Oncology
 Urology
 Neonatology
 Radiation oncology
Read more
Book Appointment